NOTICE TO THE MARKET
CCR S.A. ("CCR" or "Company") (B3: CCRO3; Bloomberg: CCRO3BZ; Reuters: CCRO3.SA), following up on Notice to Market on December 02, 2021 given the position adopted by the Company to issue a monthly newsletter, on its website, to provide information on the flow in concessions under CCR's management announces to its shareholders and the market in general, the consolidated result of the survey referring to highway traffic as equivalent vehicles, urban mobility as passengers transported, airports as passengers boarded, all shown in the newsletter from March, the comparisons were made between the same periods of the years 2021, 2020 and 2019, as follows:
Note: The Carnival holiday took place, (i) in 2022 from February 28 to March 1, (ii) in 2021 the holiday was from February 15 to 16, (iii) in 2020 the holiday was from February 24 to 25 and (iv) in 2019 the holiday was from March 4 to 5, for all these periods the days were Monday and Tuesday.
   Comparisons between 2022 and 2021, 2020 and 2019:
(1) – To ensure data comparability, same-basis adjustments were made by excluding from the periods compared: (i) ViaSul: collection started
on February 15, 2019 (P2 and P3) and February 9, 2020 in other regions (P1, P4, P5, P6 and P7). (ii) ViaCosteira: operations started on May
02, 2021. (iii) RodoNorte: End of the term of the contract on 11/27/2021. (iv) NovaDutra: End of the term of the contract on 02/28/2021.
(v) Rio-SP: operations started on 03/01/2022.

(2) – Lines 8 and 9: operations started on January 27, 2022.

(3) – Bloco Sul and Bloco Central: operations started throughout March 2022.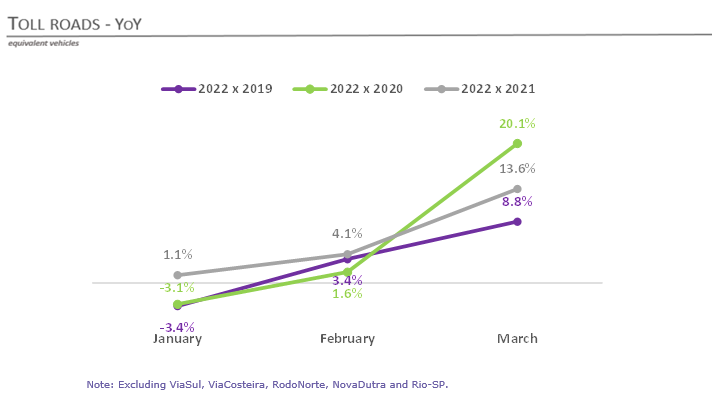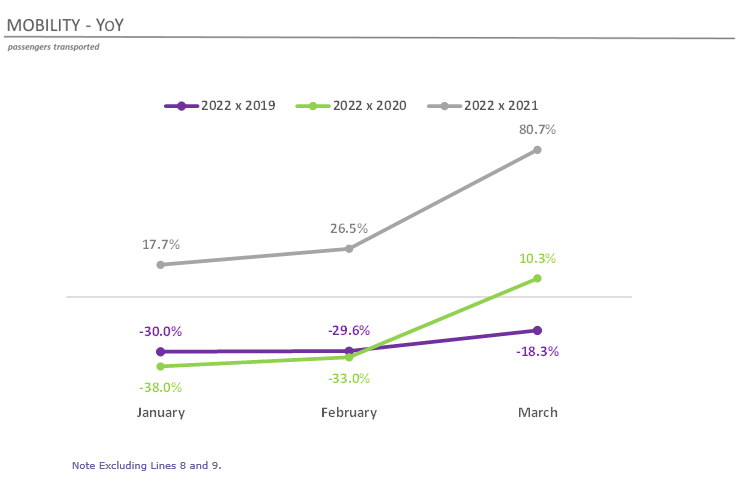 CCR Group remains committed to the safety of its employees and the communities in its operating regions to fight against the Coronavirus pandemic (COVID-19).
São Paulo/SP, April 11, 2022.
CCR S.A.
Waldo Perez
Investor Relations Officer